Argan oil is the world's most popular and expensive oil. It's shoppers' beloved pick and also a favorite among professionals who choose natural solutions in beauty. Called liquid gold in Morocco, pressed from the nuts of Argan trees, valuable in cosmetology. What makes Nanoil Argan Oil excel?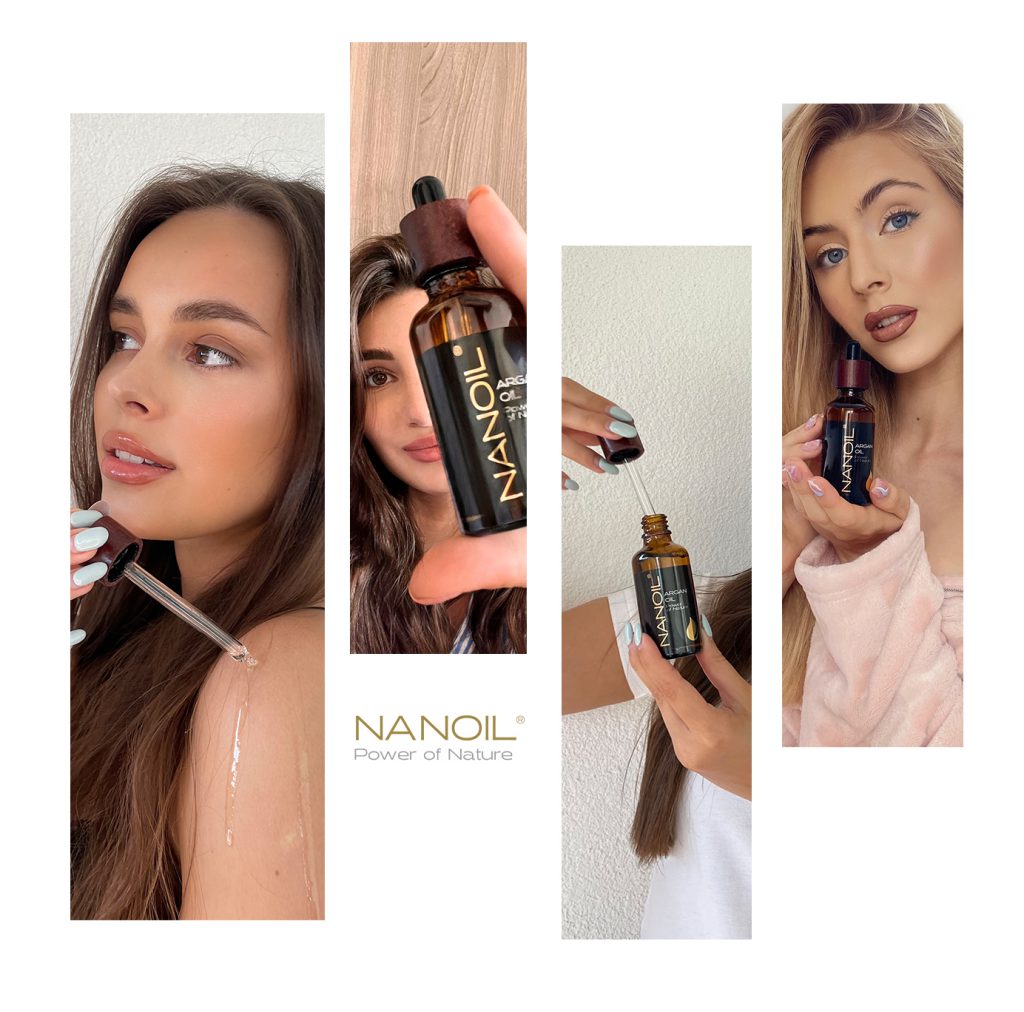 Because it is rich in over 100 valuable substances, argan oil is a potent antioxidant which delays aging, firms, moisturizes and plumps the skin, plus is able to promote faster hair growth and bring natural shine back. It is a good choice for dry, sensitive, rosacea-prone, acne or damaged skin.
Organic, unrefined, cold-pressed…
… and holding the Ecocert label which is granted to the top-quality eco-friendly cosmetics. Nanoil Argan Oil is formulated without harmful parabens, alcohols or other unnecessary substances. It is a natural beauty item that has been made to work for everyone. It's universal, multitasking, and replaces many cosmetics.
Argan oil has a subtle nut aroma and yellow color. It strengthens the hair, nourishes the skin and nails, and also regulates the secretion of face oil. The wonderful properties flow from the components such as polyphenols, squalane, plant sterols, carotenoids and tocopherols. These are substances which stop skin aging, protect against external conditions and weather, also UVA/UVB rays. Argan oil is an antioxidant which reinforces skin's protective barrier and keeps water from escaping from its deep layers.
What does it do?
Nanoil Argan Oil improves skin's firmness.
It prevents premature wrinkles.
It has anti-inflammatory and repairing properties.
It soothes symptoms of allergies, psoriasis and AD.
It protects from the sunlight.
It guards skin from damage.
It balances sebum secretion reducing oiliness.
It revitalizes nails and softens the cuticles.
It revives and nourishes damaged hair.
It keeps hair ends from splitting.
There's a reason why argan oil is the world's most wanted beauty oil. It is a best-seller. Each drop contains the most beneficial ingredients found in argan nuts.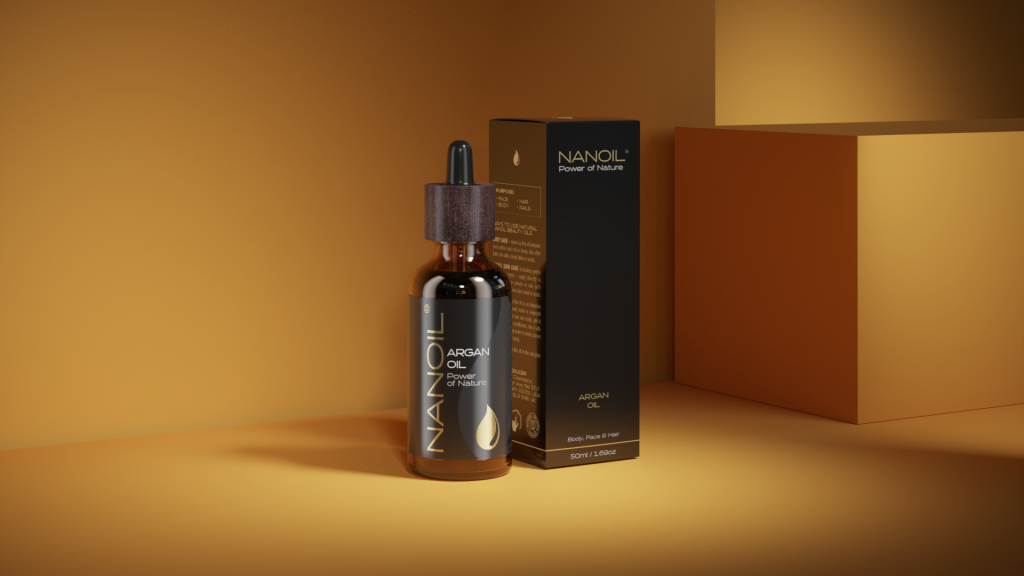 How to use Nanoil Argan Oil?
1. ON HAIR
Use it for hair oil treatment and you'll spot the difference in hair looks after just one go. Nanoil Argan Oil will repair even extremely damaged hair which is ruined due to coloring or bleaching. It restores resilience and natural shine, strengthens the protective barrier and prevents split ends. It also helps handle hair loss and scalp conditions.
2. ON BODY
Rub the oil into the areas that are affected by cellulite or stretch marks, and you'll do away with the imperfection once and for all. Add a few drops to a nourishing bath. Dab it on the skin before and after sunbathing. This firming and repairing oil will keep your skin perfectly moisturized, supple and young, preventing water loss through the epidermis.
3. ON FACE
Use it for cleansing the face or as a night serum for skin under the eyes. Add it to your favorite face cream or body lotions to improve their performance. Thanks to antiaging properties, argan oil will help the skin stay young, restoring its elasticity and health. It nurtures fragile under-eye skin, delays wrinkles and deeply repairs the skin.
4. ON FEET
Nanoil Argan Oil is a perfect foot cream which fixes extremely dry, cracked skin on the heels. It also prevents coarseness, moisturizes and nourishes, plus works great for a relaxing foot bath.
5. ON NAILS
Soak your hands and nails in slightly heated argan oil – it will quickly revive the nails and skin around them. It is a perfect repair treatment for brittle and weak nails. You can also rub the oil into the nail plate for strengthening.
Wyświetl ten post na Instagramie
Where to buy Nanoil Argan Oil?
This natural solution for all beauty problems is available at the official website: www.nanoil.co.uk. Get acquainted with all products from Nanoil and enjoy using brilliant beauty enhancers. Organic cosmetics are packed with ingredients that deliver everything that's essential for healthy skin and hair. Nanoil proves the top choice because it uses the highest-quality substances that rejuvenate, moisture, and nourish our hair and skin.