Does your complexion look tired, dull and lifeless? Is it developing more and more sun spots? Are you wishing for all the blemishes to vanish? Luckily, there are some skincare products that can help your face regain its radiant and youthful-looking appearance. Indeed, there are products proven to be perfectly able to get you smooth skin with no traces of fine lines or discoloration. What are these marvels? Vitamin C face serums deliver a huge portion of energy that fatigued skin clearly lacks. See 3 top face serums with vitamin C. Which one would bring life back to your skin?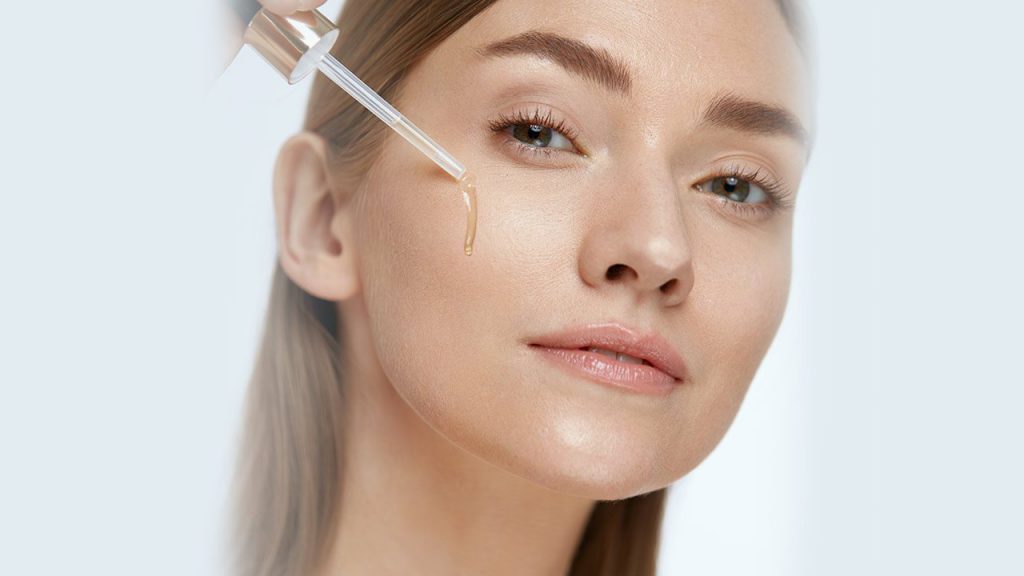 VITAMIN C: HOW DOES IT AFFECT THE SKIN?
The list of benefits that vitamin C has for skin is pretty long, which is definitely great news. What effects may you expect to notice after treating your face with a vitamin C serum? Below you will find 5 most important benefits that vitamin C is famous for.
By influencing collagen (type I and III) synthesis in skin, vitamin C rejuvenates and stimulates skin repair.
Vitamin C is proven to seal walls of capillaries, making them stronger.
Vitamin C prevents inflammation in skin.
Not only does vitamin C brighten the skin up and even out its tone, but also protects against pigmentation (no matter its source).
Vitamin C shields skin against UV and reduces redness caused by over-exposition to UVB.
VITAMIN C: WHICH FORM IS THE BEST?
Throughout many years scientists were struggling with the basic but unstable form of vitamin C, which is ascorbic acid or l-ascorbic acid. Incorporated into skincare products, it did not give spectacular effects mainly because ascorbic acid oxidized fast, the sunlight significantly reduced its effectiveness and it was not potent enough to penetrate skin deeply. Fortunately, scientists managed to develop the best possible vitamin C derivative, and called it 3-0-Ethyl Ascorbic Acid.
As it has been just mentioned, 3-0-Ethyl Ascorbic Acid is a substance deriving from pure l-ascorbic acid, and its key feature is a high stability rate, making it the best form of vitamin C on the market! It is proven to be resistant to sunlight and temperature, and what is even more important, 3-0-Ethyl Ascorbic Acid is able to reach the deepest skin layers. Additionally, this amazing form of vitamin C prevents bacteria multiplication and reduces inflammation.
That being said, products enriched with 3-0-Ethyl Ascorbic Acid keep your face free from breakouts; no matter if applied to young or mature skin. Since the newest form of vitamin C is water and fat-soluble, this means that it does not only penetrate skin quickly but also it is suitable for all skin types (including sensitive skin) at all ages.
TOP 3 C VIT FACE SERUM
1. NANOIL Vit. C Face Serum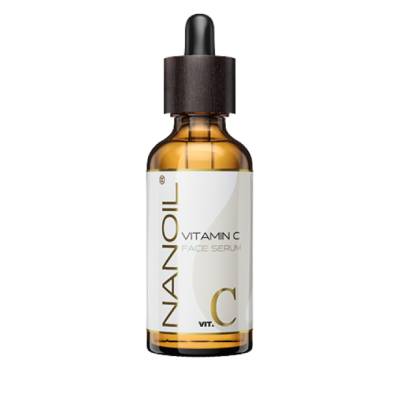 AGE & SKIN TYPE: 25-and-above, 30s, 40s, 50s, 60s, all skin types
SKIN CONCERN: tired-looking and dull skin, loss of elasticity, pigmentation spots, fine lines and wrinkles
BENEFITS, EFFECTS, COMMENTS: You will love this face serum for offering the best and most stable form of vitamin C (3-0-Ethyl Ascorbic Acid). Without doubt, this is a super lightweight and deeply penetrating serum that day by day restores healthy shine to skin. The effects achieved with this product are literally stunning and will surely satisfy the needs even of the most demanding users. Nanoil and its vitamin C face serum are the synonyms of youthful-looking, smooth and even-toned skin. Fine lines and early wrinkles are smoothed out, the face becomes visibly more supple and it looks well-rested. On top of that, sun spots – a typical blemish occurring after summer – gradually disappear with time.
Users from all over the word rave about Nanoil Vitamin C Face Serum and recommend incorporating it into daily beauty ritual. Being available at an attractive price, coming in a big size and having a positive effect on skin are top three qualities that have earned Nanoil VItamin C Face Serum huge recognition as a potent skincare product. Are you looking for a good face serum spiked with vitamin C? Check Nanoil Vit. C Face Serum and visit nanoil.us!
2. DRUNK ELEPHANT C-Firma™ Day Serum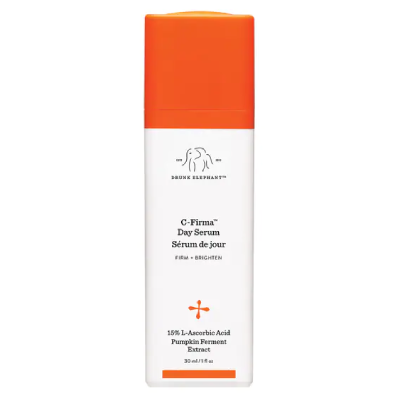 AGE & SKIN TYPE: 40s, 50s, 60s, all skin types
SKIN CONCERN: tired-looking and dull skin, acne, seborrhea
BENEFITS, EFFECTS, COMMENTS: This serum's main task is to take a couple of years off the tired-looking and dull face. Interestingly, this skincare product is destined for young skin that is prone to acne and seborrhea (the serum shrinks pores) as well as for mature skin that is prone to discoloration (the serum brightens skin up, erases signs of photo-ageing and deals with urban pollution).
Apart from vitamin C (l-ascorbic acid) the serum is also formulated with an array of fruit enzymes for firmer and visibly brighter skin. Additionally, Drunk Elephant and its C-Firma™ Day Serum are able to dissolve dead skin cells and reduce the signs of ageing. Although this is not the cheapest face serum on the market, this skincare product gives really good effects, especially when regularly – calms down the fickle acne-prone skin and leaves it visibly brighter.
3. TATCHA Violet-C Brightening Serum 20% Vitamin C + 10% AHA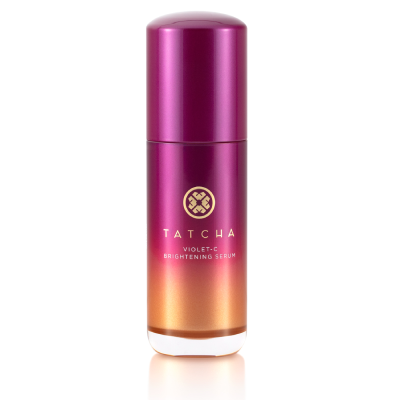 AGE & SKIN TYPE: 40s, 50s, 60s, 70s, all skin types
SKIN CONCERN: dull and lifeless skin, fine lines and wrinkles, dark pigmentation spots, aging skin
BENEFITS, EFFECTS, COMMENTS: This is a lightweight and incredibly costly face serum that women from all over the globe fell in love with. 20% of its entire composition is taken up by two forms of vitamin C (one is a derivative). Two of the best things about this product are that it penetrates skin in almost no time and is super effective in fighting off free radicals. When used regularly, this face serum makes skin more supple and improves hydration. Owing to AHA, the serum removes dead skin cells, thus it helps reveal younger-looking skin.
Is your skin covered with ageing spots? Tatcha vitamin C face serum will help you deal with the excess melanin deposits that accumulated underneath the skin, making it look even. Is such an expensive skincare product worth the money? The opinions are mixed, but it is worth pointing out that many users report achieving better-looking and smooth skin after the treatment with Violet-C Brightening Serum 20% Vitamin C + 10% AHA.