The growing number of consumers appears to become more conscious of the ingredients used in beauty products. They prefer naturally derived substances and know how to recognize them in the cosmetics. Body lotions, hair care products, face tonic… they all can be made up of plant extracts that now dominate various formulas, displacing the chemical substances. By the time you finish reading this article, you will learn basic information about the most common plant-based cosmetic ingredients.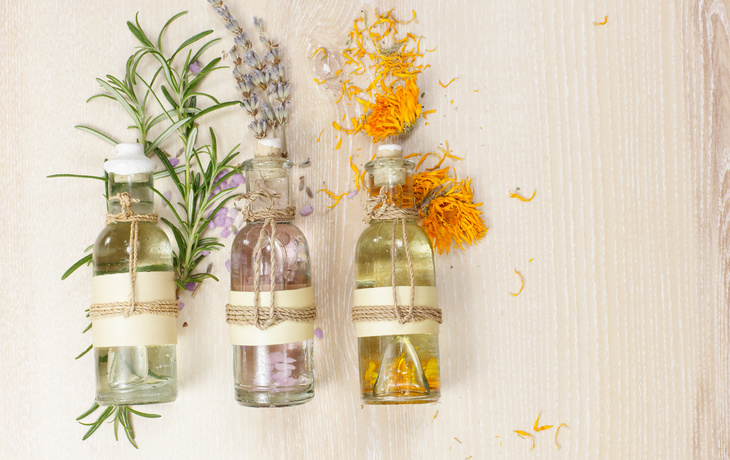 Plant extracts in beauty products
Naturally derived ingredients are obtained either from the whole plants by powdering them or extracting certain substances, like for example oils. In most cases, plant-based ingredients play the role of active substances, and therefore are in charge of delivering the promised results. Here is what you can expect a plant extract to do:
moisturize,
delay ageing,
prevent bacteria and viruses,
soothe irritations,
repair skin,
get rid of dead skin cells,
protect from UV,
combat free radicals.
Most common plant-based cosmetic ingredients & their effects
ALOE
Aloe is a potent humectant that combats inflammation and speeds up wound healing processes. It is proven to bring immediate relief to irritated and sunburnt skin. You can replenish water to dry, acne-prone and sensitive skin by treating it with pure aloe juice. Its qualities are often used in face tonics, face masks and micellar lotions.
ARNICA
This yellow flower deals with pains and various types of inflammation, also those caused by bacteria. It's known for strengthening the walls of blood vessels and improving the appearance of skin. Arnica extract is good for couperose skin, mostly because of its ability to reduce redness and spider veins.
POMEGRANATE EXTRACT
This one is often used as an anti-ageing agent. You can find it in shampoos, hair masks and conditioners because it nourishes and repairs damage even in frazzled hair. Pomegranate extract adds shine and deals with brittleness.
COFFEE EXTRACT
Looking for a plant derived extract to help you slim the body down and remove cellulite? Try coffee extract! Its anti-ageing properties are also widely used in eye creams. Why? Because coffee extract speeds up blood and lymph flow, thus reducing puffiness.
RED WINE EXTRACT
Its antioxidant effect prevents premature fine lines and protects skin from sun damage. Additionally, red wine extract prevents inflammation. It is perfect for mature skin care mostly because it slows down ageing process.
CHESTNUT EXTRACT
It's perfect for skin care. Chestnut extract brings relief to swallowed feet and deals with seborrhea. When applied to couperose skin, this plant extract erases spider veins and prevents them from appearing on the face.
PINEAPPLE EXTRACT
Deeply cleansing is the most recognizable quality of pineapple extract. It helps get rid of dead skin cells and evens skin tone for the effect of a brighter complexion. Pineapple extract is safe enough to be applied to dry and sensitive skin. It deals with seborrhea and keeps water inside the skin.