Usually, we show our feet only in summer, therefore we tend to care for them also only in the summer. However, for our own comfort, our feet should be taken care of throughout the year. It's true that in the winter the task is more complicated. It is because warm socks and shoes, which protect against cold, tightly cover the feet and make them perspire more intensively than usually. How to take care of feet to prevent this? Heel calluses, cracked heels, sweaty feet – are there any remedies? Check how the proper care of dry skin in winter should look like.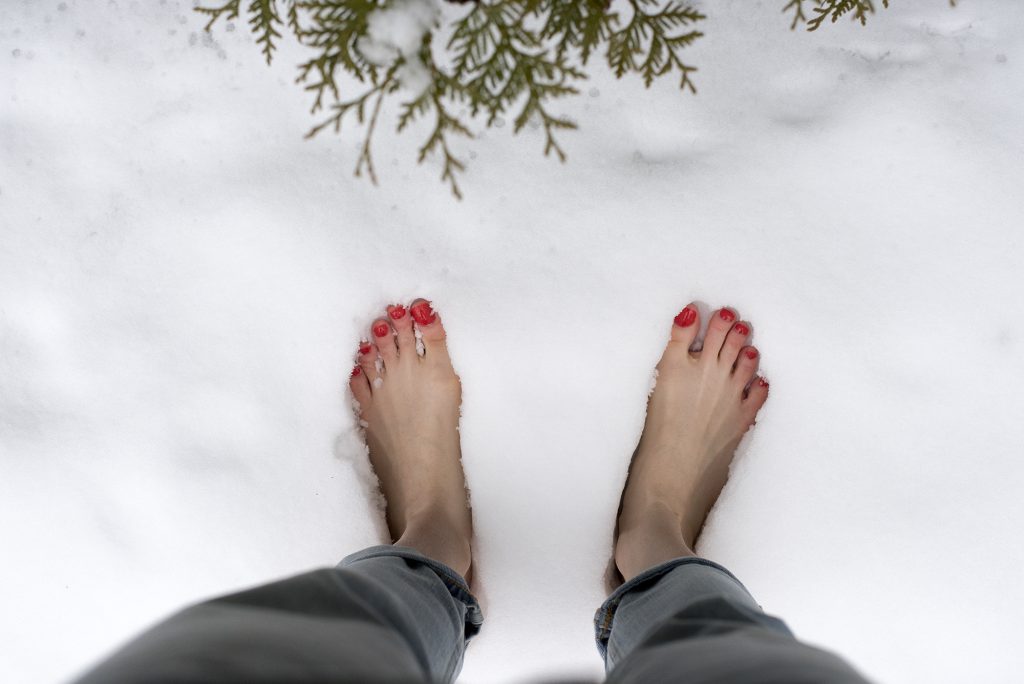 Heel calluses – remedies
In winter, we wear heavy, insulated shoes so we tend to freeze and overheat our feet. As a consequence, the epidermis becomes horny and thick. We will be able to control it provided that we regularly care for the feet. Where to begin? From a softening bath. To prepare it, we need oil, bath salts, moisturising oils or antiseptics, available in orthopaedic medical supply stores or herbal medicine stores, and, of course, hot water. After a few minutes of soaking your feet, you can start to remove the epidermis. For this purpose, it's recommended to buy a foot scraper, a foot file or a foot scrub. The foot scraper is not always recommended because it's quite hard, so it's better to use the foot file or the foot scrub. Such a bath can be done once a week.
The basic mistake is too frequent or intensive removal of dead skin. This action might have the opposite effect than the one indented. If we do it too often, then the epidermis grows faster, also when we rub too intensely, we can break the skin layer and expose ourselves to a fungal and bacterial infection. For this reason, moderation is the key. In fact, we should remove the epidermis regularly – on average once a week or a fortnight, but not more often than that. The effects will come very quickly.
Dry foot skin care
Smooth and soft feet – this is the effect of our actions up to this point. Now they should be properly nourished and moisturised. Most of creams additionally smooth and firm the feet. The effect lasts for 24 hours. Such a treatment should be done every evening.
Cracked heels – remedies
In many cases, the heels become chapped and cracked, and the skin on the heel grows at a surprising speed. In this situation, you should apply a softening cream every evening after a bath. The cream should contain jojoba oil, avocado or sage herb extract. In the case of hard and cracking heels, it's good to choose creams or ointments based on deer tallow, beeswax, paraffin and almond oil.
Sweaty feet – remedies
Before we put on socks or tights, we should spray them with a deodorant or sprinkle with a talcum powder. Products available on the market refresh and protect the feet from unpleasant odours and often contain antibacterial ingredients.
The type of shoes we wear is also of importance when it comes to foot care. To avoid unpleasant smell of sweat, change the shoes every 4 hours or use a shoe spray, which also have an antifungal effect.