This gadget will certainly be useful in skin care. It is extremely handy and simple to use, and most importantly it gives amazing results. Do you want to find out? All you have to do is use it regularly and you will see amazing results in a short period of time.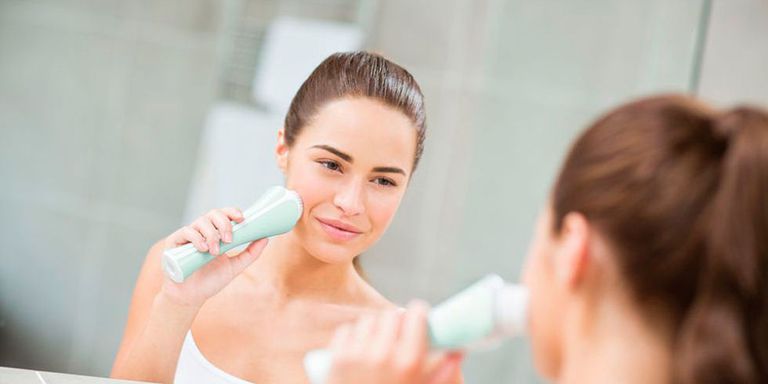 A face brush – what is it?
This is a small cosmetic gadget, with a few cleansing caps placed on the head. Brushes are used to care for the face, neck and neckline with water or your favourite cosmetics. These devices can be divided into manual, electric and sonic. Electric and sonic brushes require power, but their effectiveness is way better in comparison to manual tools.
Face brush – use
Facial brushes have a wide range of applications. Their task is to cleanse the face, so get rid of makeup, sebum, dirt and dust. However, these are not all functions of this type of devices. The brushes also have a conditioning effect. Their job is to exfoliate dead skin cells, improve circulation, massage, smooth out facial skin, improve skin tone and facilitate further care. What's more, some models produce skin-safe light. Thanks to it, bacteria living on the skin are destroyed, which could lead to the development of various skin diseases.
Who is the face brush for?
Contrary to appearances, face brushes are not recommended for everyone. Unfortunately, people with a very sensitive, atopic, allergy-prone complexion should not use it. Also, those who struggle with severe acne must reconsider the use. In this case, cleansing with such a gadget could end up with worsening of the facial skin condition, extensive irritation or spread of acne to other parts of the face or body.
How to use face brushes?
Face brushes can be used as often as necessary. However, it is not recommended to use it every day, because the bristles of the caps could damage the natural hydro-lipid barrier of the skin. Moreover, you cannot use one and the same attachment for different parts of the skin or without cleaning it first. Unfortunately, the brush is also not suitable for removing make-up and cleaning the eyes and skin around them. Without any obstacles, however, it can be used to take care of the skin of the neck and neckline.