A sour fruit is a sweet treat for your hair! It turns out to work better than apple cider vinegar, brilliantly nourishing and enhancing your hair. Lemon-based cosmetics can be prepared in a few minutes and are budget – your wallet won't feel the difference but you will immediately spot a change in your looks. Here are the best lemon hair treatments.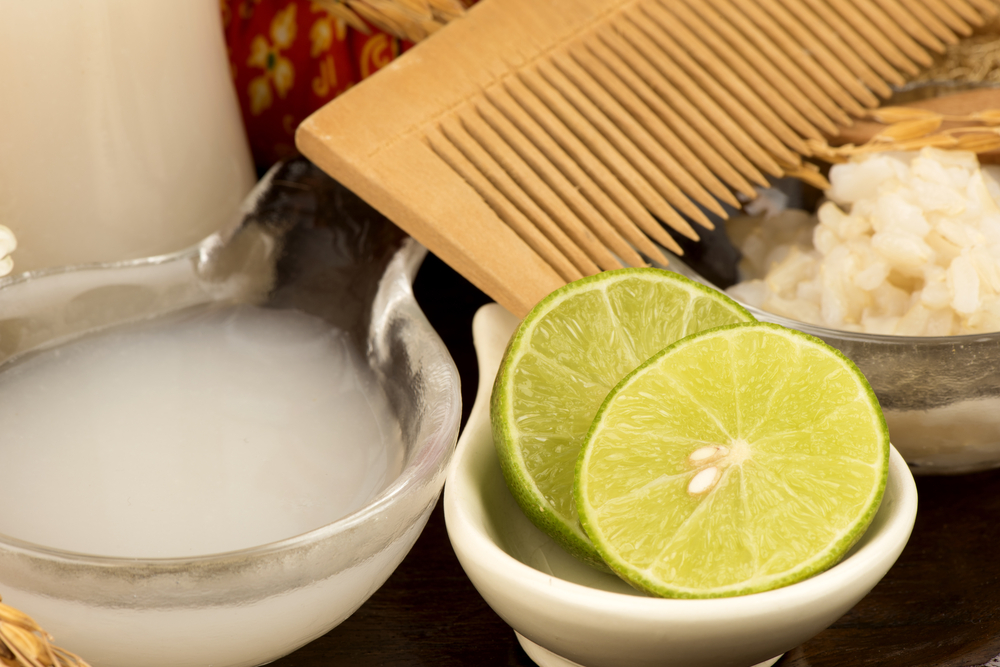 Lemon juice is an excellent beauty ingredient because of being rich in vitamin C, calcium, folic acid, vitamins B, magnesium, potassium, luminophores, zinc. Applied to hair, the juice increases shine, revitalizes, makes hair stronger and enhances growth.
Additionally lemon juice delays graying and reduces oil production, freshens up and delivers oxygen to scalp, effectively eliminating dandruff and itchiness. You can use it as a base for a home scalp conditioner, a hair rinse or mask. Below, find life-changing products using lemons.
Lemon for hair – homemade products
LIGHTWEIGHT MASK FOR FRIZZY HAIR
Mix 2 spoons of plain yogurt and a spoon of freshly-squeezed juice. Add a capsule of vitamin A+E (prick it with a toothpick and pour into the mixture).
Spread the mask onto washed, damp, towel-dried hair. After around 5-10 minutes, rinse it well, style and blow-dry the hair as you always do.
HOMEMADE HAIRSTYLING LEMON GEL
Pour 1/2 cup of water over 2 spoons of linseeds and cook for around 5 minutes. The seeds should turn into clear gel. Next, put the mixture aside to let it cool down, and add 1 spoon of lemon juice. Keep your lemon hairstyling gel in the fridge.
Use it daily to style hair – apply a bit of the product (1/3 teaspoon or so) to dry or damp hair. Style as always.
INSTANT STRONG-HOLD HAIRSPRAY
Pour a glass of hot water over 2 spoons of sea salt. Mix well the infusion so the crystals melt. Let the salty water cool down and enrich it with 1 lemon freshly-squeezed juice.
Next, pour the liquid into a clean atomiser bottle. You can store it in the fridge for 2 weeks. After that, you must make a new fresh lemon spray. Apply it to your hairstyle keeping the bottle at the distance of 30 cm. 5-6 pumps should be enough to cover the hair with the mixture.
This lemon-salt spray is also ideal for creating gentle waves. Spray it on damp hair after a wash and scrunch up the strands while blow-drying to give them a lovely curl.
FRAGRANT SHINE-INCREASING HAIR RINSE
This refreshing rinse smelling beautiful will define your hair color and leave it glossy. A lemon juice rinse is the most effective way to instantly boost hair shine. Not only does it enhance dark hair but also defines fair hues.
Cool down 1 liter of boiled water so it's lukewarm, not cold. Mix it with juice squeezed from one lemon. Use it for the last rinsing and leave in hair. Gently towel-dry, style and  blow-dry as always.
Worth knowing!
Similarly to all citruses, lemon peels are covered with strong, chemical, cancerogenic preservatives (such as imazalil or tiabendazol) and antifungal substances (e.g. sodium orthophenyl phenol). That's why you must always wash lemons with warm water. Organic lemons make a good choice as they are free from harmful preservatives.