Hairstyling can be challenging, especially in the morning when we're in a rush and have too little time for a decent styling routine. Hair often makes things worse, getting frizzy or static. Even if we manage to create a style, it often falls apart after a few hours. Thankfully, Nanoil Hair Styling Spray comes to the rescue! It takes control of the most frizzy strands. Check out the properties that make it different from other hair primers.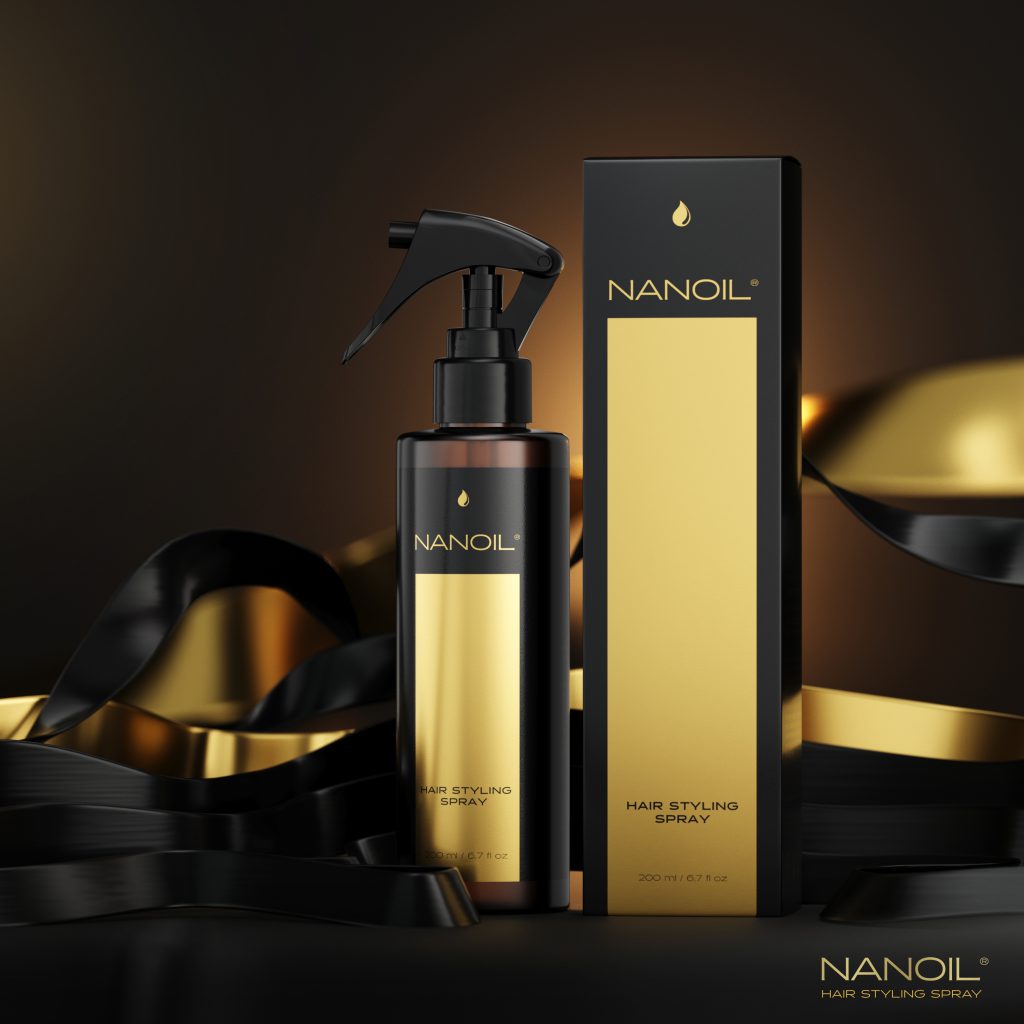 What is Nanoil Hair Styling Spray?
The Nanoil styling spray turns out to be a multi-tasker which makes the styling routine easier but also ensures hold for many hours! It works like a standard hair spray yet it doesn't leave hair sticky or weighed-down. Nanoil adds shine and softness to hair, improving both the look and longevity of a hairstyle – that's what makes it so special. Unlike typical hair sprays, it doesn't make hair stiff but brings out its beauty so it looks its best all day.
Benefits of a styling primer by Nanoil
You can be sure that Nanoil Hair Styling Spray will bring many benefits to your hair. Check out some of them:
it eases styling
it boosts shine
it makes hair soft
it helps maintain hair health
it strengthens the hair
it safeguards from external conditions
it stops frizz and static
it moisturizes
it adds resilience
it makes hair smoother
it lasts long
it smells amazing
Nanoil Hair Styling Spray – formula
Thanks to brilliantly-suited ingredients, Nanoil Hair Styling Spray allows you to do your hair easily and pleasurably. Additionally, they stave off frizz and static, guard against environmental aggressors, improve hydration and health, making hair more resilient. What are they exactly? A nourishing vitamin B5, panthenol, is number one as it deeply conditions and strengthens the hair. There's also castor oil which reinforces the strands as well. The components in the spray prevent loss of water and – good news for those having their hair colored – keep hair dye from washing out. You don't need to worry about the health of your hair any more. You'll boast a lovely style all day feeling gorgeous and confident. The hair will be protected from the effects of the sunlight, cold weather or wind. Natural ingredients don't weigh hair down – get softness and shine instead of unnaturally crunchy and unbrushable strands!
How to apply the Nanoil Hair Styling Spray?
Nanoil Hair Styling Spray can be used in two ways:
spraying the cosmetic on dry hair (as a hair spray)
spraying the cosmetic on damp hair (as a styling primer)
Both ways produce wonderful effects no matter what your needs are!
Where to buy the Nanoil Hair Styling Spray?
Visit the manufacturer's official site www.nanoil.co.uk to easily order the product, read all necessary information and user comments, and check other fantastic products for hair or skin.