Comparing mineral cosmetics and regular beauty products is like comparing a bike to a luxury car. Even the highest-quality, traditional cosmetics won't top the mineral ones. Why? How are they different? Who should go for mineral cosmetics? What are the benefits? How to use them? Let us present key info on mineral beauty products.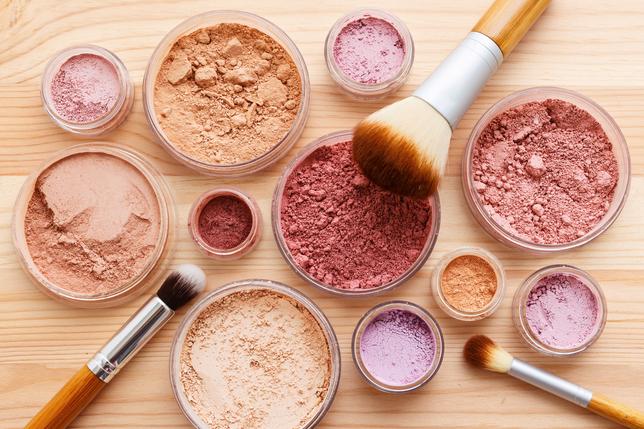 What are mineral cosmetics?
Just looking at the name, you can easily guess that they are made up of minerals – the purest ones. Mineral cosmetics are all-natural. Their lists of ingredients are short, free of chemicals, parabens, preservatives, oils and fragrances. This is what makes them very mild, hypo-allergenic and non-irritative. What is more, they heal the skin, nourishing and repairing. These are high-end products which deliver both full skin care and flawless makeup.
Mineral beauty products vs. regular cosmetics
Mineral cosmetics top traditional products that you see at drugstores. We have already mentioned they are free of harmful, comedogenic substances so they don't disturb the natural processes occurring in the epidermis. Their conditioning power is valued – especially when regular beauty products fail to give skin care. They are cut out for the subtle day makeup and delicate skin care. Everyone appreciates their skin-repairing properties now. They used to be recommended only for treating scars, skin irritations and atopic dermatitis.
Mineral beauty products – who is going to make the best of them?
Mineral cosmetics are exceptionally delicate and ideally correspond to the needs of skin. They have been made for the sensitive skin and for the after-care for people deciding on laser peels, microdermabrasion or botox. They make an ideal choice after plastic surgeries. Mineral beauty products care for the acne-prone skin and help treat various wounds and blemishes on the problematic skin (not just acne). It doesn't mean that mineral face skin products are designed exclusively for the sensitive, irritated or after-surgery skin care. Today, it's a choice of everyone who looks for the finest-quality cosmetics and confirmed effects.
Mineral makeup products – ingredients
The power of natural cosmetics lies in their origins and an appropriate selection of ingredients. Pure minerals ensure a combination of amazing skin care and repair with a stunning, flawless makeup; these include titanium dioxide, zinc oxide, mica and pigments (also natural: iron, manganese, chromium oxides). Mineral cosmetics owe the intense color to zinc and titanium white which provides coverage, fights bacteria and balances the sebum secretion. Mica in mineral makeup products gives a pearl or satin finish touch. None of the ingredients irritates the skin – just the opposite: titanium dioxide additionally works as a natural sunscreen (15 SPF).
Mineral makeup products – opinions
Mineral cosmetics get amazing reviews – no skin irritations; they make a perfect match with the skin. They last very long, too. All you need for the application is a set of brushes (all mineral cosmetics are loose, no exceptions). Mineral foundations and makeup-setting powders enjoy the greatest popularity. Bloggers and vloggers see eye to eye – mineral makeup products are safe and there's no fear of a cake face even after applying a few coats. They guarantee a natural, soft makeup and are perfect for all makeup beginners (a must-have for teenage girls because they give both makeup and care of the demanding, moody acne skin).
Mineral beauty products – price
Mineral cosmetics are a bit pricier than traditional makeup products but considering the quality, durability and skin benefits, their price seems to make sense.