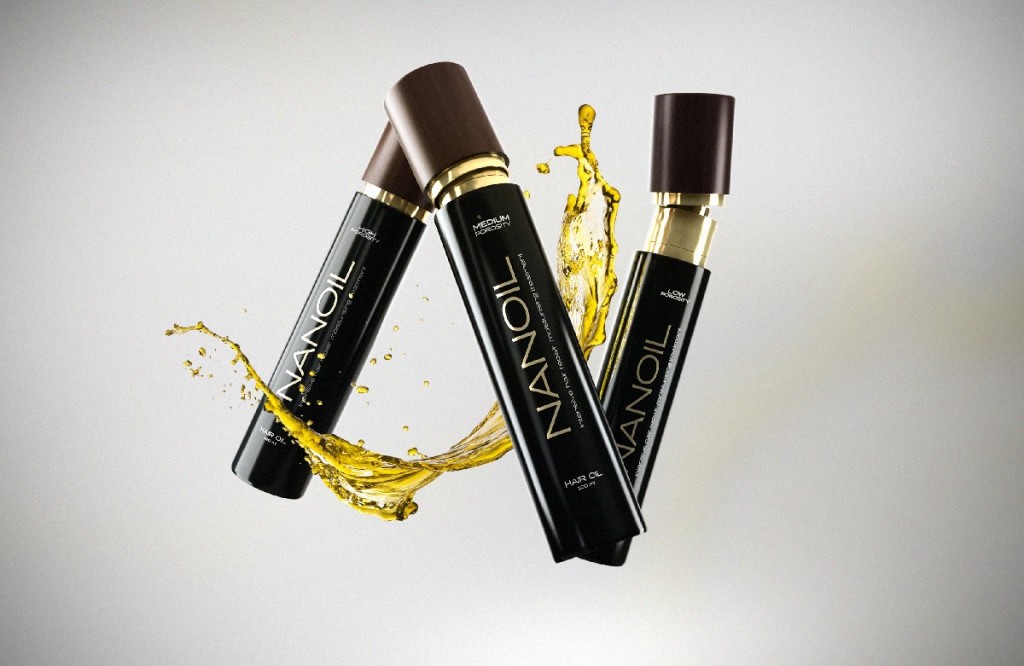 We like to return to the roots. We are aware of the good sides of natural beauty care. Especially nowadays, when we are flooded with synthetic and chemical products. Nature is powerful. It is time to come back to what is best for us. Nanoil is a hair treatment in three versions. It is based on exclusively natural, carefully selected vegetable oils and ingredients that work ideally for human hair.
What do you know about your hair?
Most people are unlikely to know much about hair structure. We know that there is a bulb, hair is long and requires care. Bravo… but that's not all. Human hair is made of a root (bulb located in follicle) and a stem. Hair stem is made of medulla that is covered with cortex and protected by a few layers of cuticle scales. These cuticles are key in hair care because we must choose nourishing substances depending on their position.
Fun fact: The bulb is the only living part of hair. The rest is non-living.
NANOIL – THREE THOUGHT-OUT FORMULAS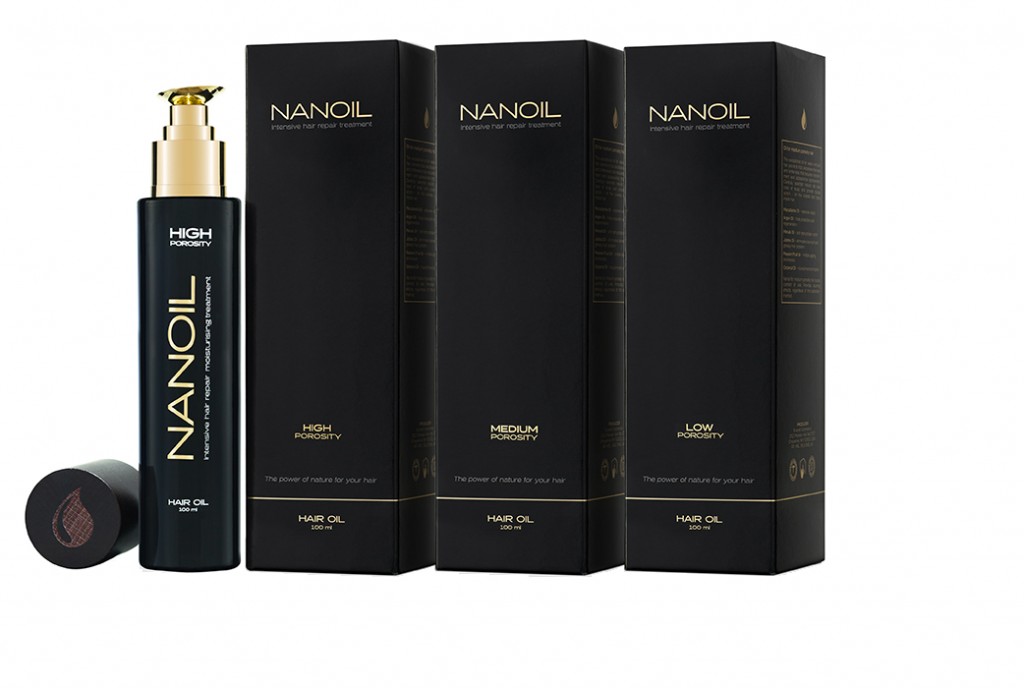 An effective hair care is the one proposed by Nanoil – natural and suitable for our hair structure. It is the only such oil treatment available on the market.
[1] When cuticles cling to the stem, hair is straight. Nutrients and substances included in styling products cannot get inside the hair. They sit on hair surface, weighing hair down and intensifying greasiness. Nanoil for low porosity hair is the ideal composition of oils. They are made of small particles which precisely penetrate hair bulbs. Even if they stay on hair surface, there is no overburdening.
[2] When cuticles raise, hair loses its vitality. It can easily get dehydrated, dull and brittle. Most products focus on smoothing rough hair surface with silicones which weigh strands down and inhibit the absorption of nutrients. Nanoil for medium porosity hair is the combination of the best natural oils that are made of medium-sized particles. They penetrate inside hair, nourish and seal it.
[3] Drastically raised cuticles require immediate reaction. This type of hair is damaged, absorbs and loses moisture quickly. It is weak and looks terrible. Hair care must be well-thought-out in this case as well. Nanoil for high porosity hair guarantees deep repair. Thanks to oils abounding in omega-3 and omega-6 acids, it is able to rebuild damage.
NANOIL – INGREDIENTS IDEAL FOR HAIR
Hair care must be ideally matched to hair structure. Otherwise, it will only mask the problem instead of improving hair condition. Which vegetable oils are included in the three hair treatments? The best, carefully selected and combined in perfect proportions.
Nanoil for low porosity hair (difficult to style, needing protection) contains: cedar oil, coconut oil, argan oil, castor oil, shea butter, maracuja oil, babassu oil, monoi oil, cupuacu butter, vitamin A and panthenol. Nanoil for high porosity hair (destroyed, split, dry, dull, brittle) includes: almond oil, argan oil, evening primrose oil, avocado oil, maracuja oil, cottonseed oil, lanoline, panthenol, silk and keratin. Nanoil for medium porosity hair (its condition is neither very good nor very bad) combines: macadamia oil, argan oil, marula oil, jojoba oil, maracuja oil, coconut oil, vitamin A and silk.
Action of natural oils is enhanced by some extra substances. Each of the three versions of Nanoil hair oil contains anti hair loss kerastim, hair growth stimulating baicapil, UV filter protecting from harmful sunlight, and vitamin E – natural antioxidant.
There is something more that the 3 versions of Nanoil have in common. The oils owe numerous valuable properties to the magical power of natural plant substances. As a result, Nanoil hair oils work:
on hair surface, reinforce natural protective barrier, smooth, boost shine, bring elasticity, work as emollients which lock in moisture and add softness;
inside hair, strengthen keratin structure, nourish, provide proper level of moisture, repair and rebuild intercellular cement;
in the scalp, control the work of sebaceous glands, balance pH, soothe irritation, have anti-inflammatory and antiseborrheic properties, keep hair from getting greasy.
NANOIL – LIMITLESS APPLICATION METHODS
Nanoil hair oil is a product that ensures effects if you use it regularly. For example, you can oil your hair any time you wash it. There is no indicated time of treatment, which is surely an asset. We don't need to wash hair to apply the oil. We adapt Nanoil application to our beauty routine.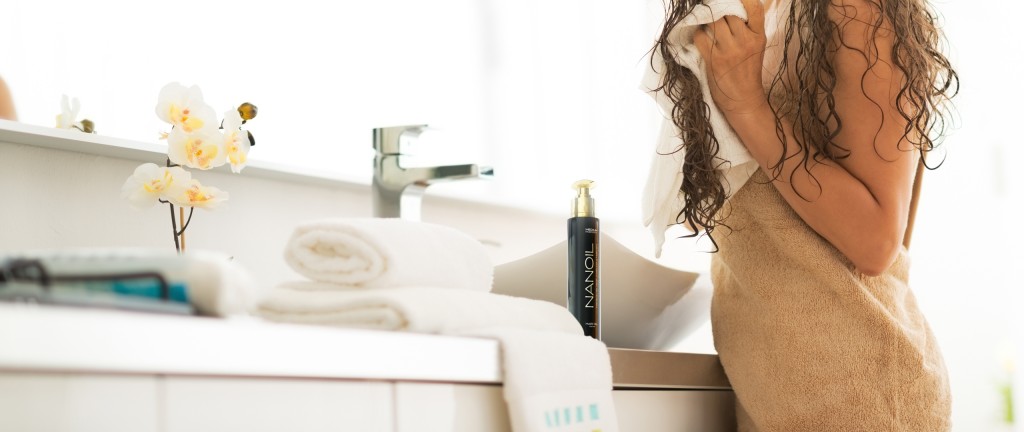 How to use Nanoil hair oil?
It is an innovative approach to hair care with oils. We usually have to follow precise directions defined by the manufacturer to enjoy desired effects. Similarly to the use of all natural hair oils, the way of using Nanoil is up to you. It is free from any damaging substances thus suitable for both hair and scalp. We can rub it in dry or wet hair/scalp; make an oiling mist to use during the day; do hair oil treatment; add it to other products to enhance their action. It can be also used for sauna hair treatment. Instructions for use of Nanoil can be summarised with two words – free choice.