Do you feel like your face is always cleansed badly and that your make-up remover is failing you? Or perhaps you often have spots or irritations caused by incorrectly chosen cosmetics with the wrong composition? Meet the natural make-up removing cosmetics – perhaps you will find such that can aid your daily routine.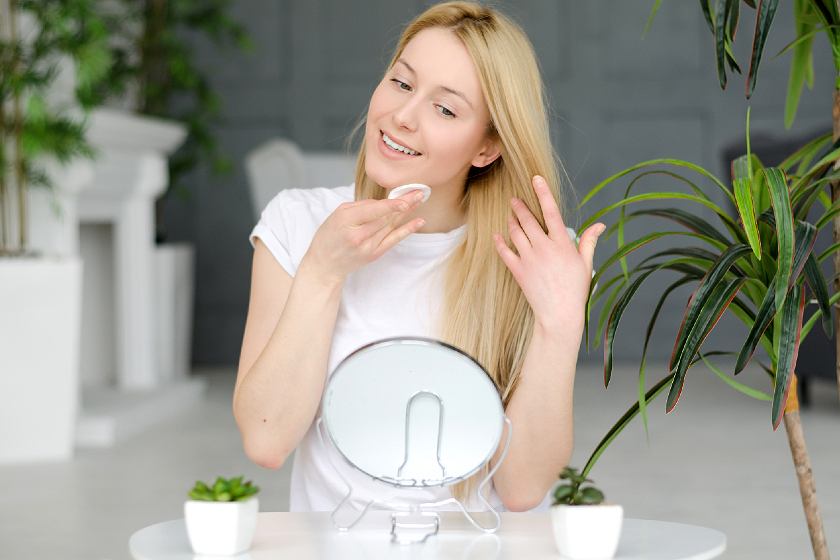 What are natural cosmetics for make-up removal?
Most people associate natural make-up removal with oils – it's true that oils provide a thorough and fully natural cleanse (called OCM), but those are not the only cosmetics with a fully natural composition that can be used as a make-up remover. If you are a fan of OCM then you will certainly like the other natural cosmetics for make-up removal.
Natural micellar liquid for make-up removal
The micellar liquid is obviously the most popular and most often chosen make-up removing cosmetic. It also has its natural version free from parabens and synthetic substances. It contains plenty of micelles – the particles that are able to catch the dirt, dust, and toxins, but also cosmetic residues. It is worth keeping in mind that micellar liquid has also refreshing, softening, and calming action.
What kind of natural micellar liquid will be best for you? You should definitely try those with flower and herbal extracts, e.g. basswood or lavender micellar liquid. Sensitive skin will respond well to micellar liquid with aloe and chamomile, while oily skin will like – sage, nettle, or horsetail.
Natural cleansing milk
Cleansing milk is a classic cosmetic for make-up removal – it is the first cosmetic used for make-up removal considered to be number 1 in skin cleansing until it was forced out by micellar liquid. Natural cleansing milk is a lightweight cosmetic with a gentle texture. It is perfect for sensitive, dry and delicate skin types. It is able to fortify couperose skin. The cleansing milk is created by the combination of emulsifiers in form of the oil phase and water phase. Its task is to gently clean the skin of all sorts of dirt and make-up. Natural cleansing milk doesn't contain any strong cleansing substances (there are no controversial ingredients such as SLS, SCS, SLES) so it does not disrupt the natural protective barrier of the skin. The plant-based ingredients in this cleansing milk additionally take care of the skin and calm it while protecting against damage.
How to use cleansing milk?
If you have dry skin, then just soak a cotton pad with your cleansing milk of choice and wipe the skin so that all cosmetics are dissolved and absorbed by the cotton pad. To remove all cosmetic residues switch up cotton pads a few times taking on another dose of cleansing milk. This way you can thoroughly clean your skin. After make-up removal wash your face with water or use gentle face washing liquid so that residues of the milk were also removed.
There is yet another method that will be perfect for combination skin – apply cleansing milk directly on the face just like you do it with washing facial gel or cream. Now perform gentle and slow face massage to stimulate blood circulation and make make-up cosmetics dissolve. You need to wash cleansing milk from the face and repeat the process if necessary. After you remove the milk you can proceed to wash your face with face washing gel or get to the toner right away to balance ph.