Iwostin laboratory is famous for its products that take care of skin problems in a professional way and they also fit in with the latest cosmetic trends. Perfectin Re-Liftin is a well-known and popular series of cosmetics, recently complemented by a revitalizing serum. It works great when used with the professional night peel from Iwostin.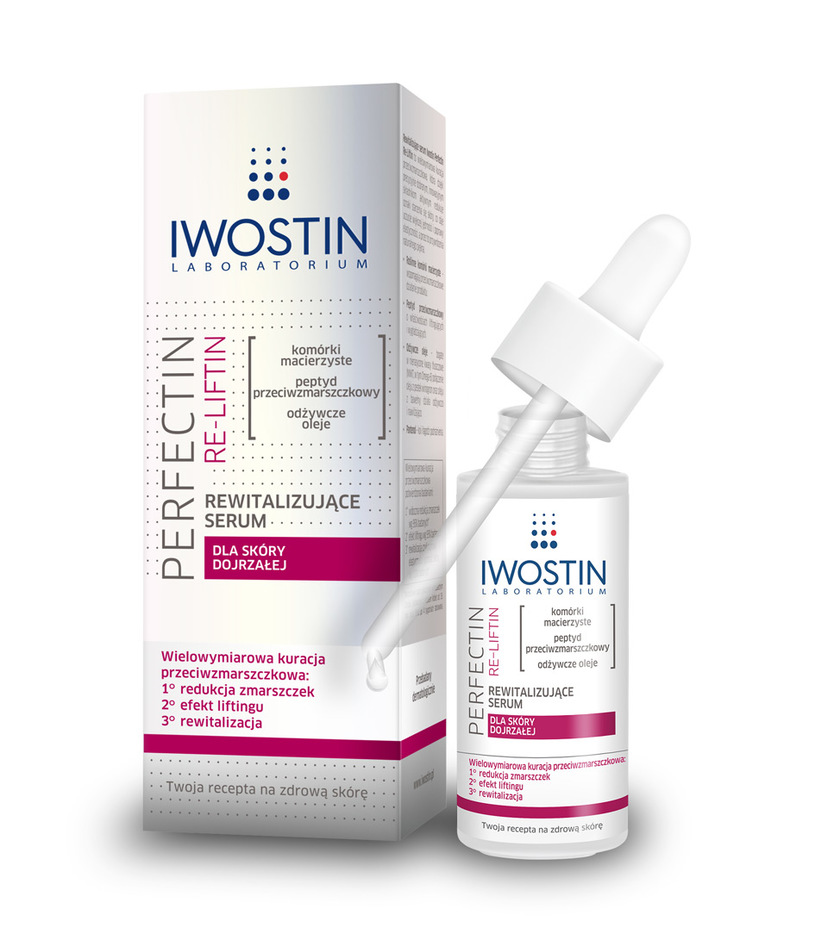 First of all, let's start with introducing dermaceutics from Iwostin. Those are: a revitalizing serum and a professional peel from the Perfectin Re-Liftin series. They both work on the skin in a multidimensional way. They reduce the number of skin problems and the effects last very long. The effectiveness of Iwostin range has been clinically proven.
Iwostin Perfectin Re-Liftin Revitalizing Serum is a product that provides tri-step antiwrinkle treatment. When used on mature skin, it will:
reduce the visibility of fine lines,
give skin lifting effect,
rebuild damaged skin.
Iwostin revitalizing serum is a very interesting product; its formula has been enriched by an extract from plant stem cells. This makes is a strong anti-ageing cosmetic which is confirmed by application research.
Iwostin Perfectin Re-Liftin serum contains:
plant stem cells,
antiwrinkle peptide,
Grapeseed oil,
Cottonseed oil,
panthenol.
Plant stem cells in Iwostin serum
Nowadays, companies more often reach for stem cells extracts and implement them in their cosmetics. It is a revolutionary technology in treatment aimed at rejuvenating effects. Stem cells are responsible for stimulating collagen production – the natural building block of our body. This will improve firmness, elasticity and delay skin ageing processes.
This way, thanks to the stem cells extracts, Perfectin Re-Liftin serum form Iwostin not only eliminates visible wrinkles but also prevents the formation of new ones. A treatment combined with prevention. Perfect for women who enjoy satisfaction with effective rejuvenating care and love to follow trends.