A party is coming soon and you suddenly realize the state of your skin, hair and nails? We've learned some tricks and tips from experts, letting you quickly and effectively upgrade your appearance and dazzle everyone with a flawless look. Check out pieces of advice celebrities get from famous make-up artists.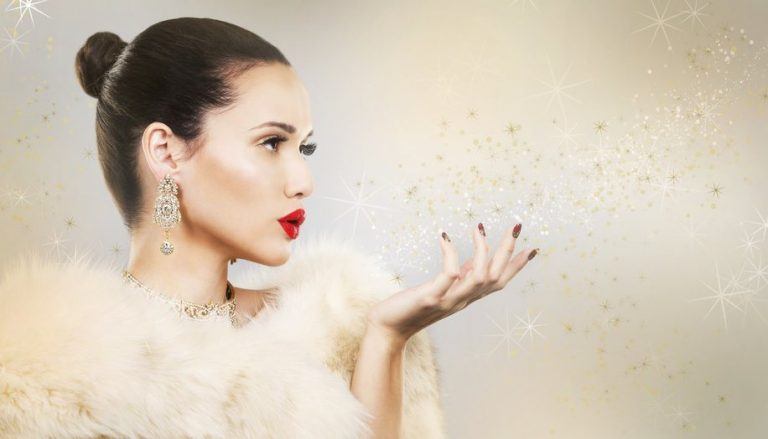 How to get a gorgeous party look – trick no 1 – cucumber on eyelids
If your eyelids are tired and swollen and you spot unattractive bruises under your eyes – put slices of cucumber into the fridge, leave them in for two minutes. Put them on your eyelids and leave on for a few minutes – swelling will disappear and you'll get a glowing look. Cucumbers brilliantly brighten dark under-eye circles. Eyebright extract gel or herbal tea essence give similar effects (simply soak cotton pads in e.g. camomile or nettle tea, cool them down in the fridge and put on your eyelids).
How to get a gorgeous party look – trick no 2 – ice cube compress
Ice cube compress is a great fix for tired, dull skin. If you've been shaping your eyebrows before a party – ice cubes in a cloth are going to reduce redness and swelling. Remember that coldness closes skin pores, which makes skin look better and lowers the secretion of sebum. Ice is an excellent remedy for swollen skin and under-eye swellings. It gives a nice skin tone and regulates sebum production.
How to get a gorgeous party look – trick no 3 – instant effect facial mask
An express facial mask is a splendid, quick, tried & tested skin-enhancing remedy. This type of mask is rich in strongly-concentrated active substances which affect the appearance of skin. It smoothes and tightens the skin, evens out the skin tone, upgrades hydration, elasticity and bounce. The effect is quick yet short-lived – it is an express, nourishing shoot for skin. A perfect choice before a big night out and before applying make-up. Instant effect masks don't have regenerating properties – they give sensational conditioning instead. Sheet masks are the most common. There's also a specially-designed version for the under-eye skin: small gel pads which lift the skin, restore its bounce and iron face creases.
How to get a gorgeous party look – trick no 4 – good make-up primer
Before a party or a date, we desire a flawless-looking skin, therefore, a good make-up primer should be the fundamental element of make-up: choose it respecting your skin type. Make-up bases are available in form of clear thick gels (matte effect) or a white, pearl-color emulsion (skin smoothing). There are also color bases and each one works for a different skin type.
a green make-up primer camouflages redness and is fit for vascular skin,
a yellow make-up primer reduces purple and blue bruises and circles on skin (it is applied only to chosen parts e.g. under eyes),
a purple make-up primer neutralizes yellow tones on skin and reduces hyper-pigmentation,
an orange make-up primer lessens gray tones and pigmentation spots (suitable for tired and grayish skin).
How to get a gorgeous party look – trick no 5 – full coverage foundation
Foundation is the key to flawless make-up. A full coverage foundation is the best choice for big events – the one that doesn't give you an unnatural cake face. The foundation should both camouflage imperfections and moisturise your skin, letting it breathe – in this way, it doesn't block skin pores or cause comedones. The full coverage foundation hides blemishes and discolored skin. If you have mature skin, remember not to apply too much in the area of wrinkles – it may settle in skin creases, drawing attention to wrinkles instead of camouflaging them.
How to get a gorgeous party look – trick no 6 – strobing
Strobing is a make-up technique which focuses on face contouring using just a highlighter. It lets us get the effect of radiant, rested and glowy face. Performed the right way, strobing makes face look younger, smoother, moisturised and elastic due to reflecting the light. Strobing must be done with several shades of highlighter – ranging from dark, nut hues, cool and warm beige to light vanilla or pearl.
How to get a gorgeous party look – trick no 7 – a hair oil
A hair oil quickly tames unruly flyaways, nourishes, smoothes and increases hair shine. Not only do oils intensify the appearance but also regenerate hair in inner structures. Beautiful scent plus hair volume and shine boost. A good hair oil should stay in your bathroom for good – it is a perfect intensive hair mask-treatment and a shine-increasing lotion which smoothes and beautifies the driest strands and tangles.
How to get a gorgeous party look – trick no 8 – luminous body
If you have grayish, coarse, dull skin – use a trick appreciated by stylists and make-up artists: reach for a body care oil which is enriched with subtle light-reflecting particles. Such a product looks like a fluid highlighter. Applied to skin, it delivers incredible softness and conditioning thanks to natural oils, as well as beautifies thanks to illuminating particles which add gloss, camouflage imperfections and give a stunning suntan definition.
How to get a gorgeous party look – trick no 9 – minimalist make-up
If your skin is tired and dull or you're bothered by many blemishes – give up on bold make-up: it won't help at all and will just intensify the effect of fatigued and dull skin. Skin-enhancing make-up should be subtle and glowy: use light colors and go for a subtle pink or bronze lipstick. Avoid matte lips. Illuminate inner eye corners and apply a light shadow or highlighter under the brow ridge for a youthful look.
How to get a gorgeous party look – trick no 10 – nail polish dryer
When you're running late and haven't had your nails done yet – a nail polish dryer is going to make your life much easier. A clear gel nail polish dryer is the best because it additionally works as a shine-booster and top coat. You can apply it even if your nail polish is still wet: the product needs maximum two minutes and you'll have a stunning mani in record time.