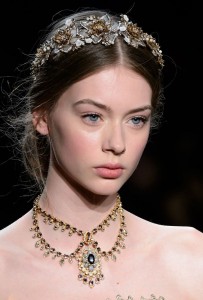 In hairstyling, elegancy, minimalism and economy has been left on the shelf long time ago. This season is open on extravagant decorations, sparkling hair-slides, hulk bows, exotic flowers and colourful hair bands. Keep reading to learn whether you are going to like the upcoming trends.v
BOWS
The bigger, the better. During this season such hair decorations are found really fashionable. Satin, sateen and silk are the most popular textiles that are used by fashion designers. Bows can be matched with one of the following: a hairdo, outfit or just an event you are going to attend. Put it either at the end of your plait or attach to the top of your head in such a way to make it compose a kind of shaggy, creative chaos on your head. Actually, you can even decorate the bows themselves. Tinsel, hairgrips, jets and spangles will look wonderfully once glued to the bow. Remember to fix (with a hair spray or a hair mousse) each hairdo you are going to decorate with the bow. You can also make a good use of a hair oil. Thanks to this natural cosmetic, your strands and scalp will become moistened and nourished.
HAIRGRIP
Big, colourful and gleaming. Use such items and you'll be the most trendy girl among your friends. You can place them behind the ears, on the top of your head or on nape of the neck. You can also clip them gathering just a few strands or the fringe. The more, the better. Obviously, such a hairdo isn't rather suitable to office or school. However, it's a good idea to decorate your head that way when you're going to a New Year's Eve party or a carnival party. Choose the hairgrips that differ among each other in terms of colour, size and shape. If you want to have a trendy hairdo, you need to decorate your head with many various hairgrips.
FLOWERS
Despite the winter, flowers used as hair decorations will be the perfect choice this season. Naturally, these plants have to be artificial ones, made of silk or light material resembling metal. Such hair items are good to wear at family and friend parties. Pin individual flowers into your hair. Don't hesitate to pin even the whole bouquet. Great are also head-bands with flowery patterns. When decorating a bun, plait or other hairdo, make sure that the flowers are well-pinned. In order to do it, use bobby pins, hairgrips and transparent rubbers.
HAIR BANDS, CROWNS AND TIARAS
As far as hair bands matches almost each hairdo, unfortunately crowns and tiaras have to be saved for other occasions. Hair bands match long, short, fine and dense hair equally as they adds a bit of charm to all hairdos. On the other hand, crowns and tiaras are considered as rather subtler accessories. They can be worn on forehead or attached to the top of the head. They look amazing when pined into buns or when they separate fringe from the rest of a hairdo. Finally, hair bands and crowns will look good when put on loosen, carelessly set hair or sleek strands.
VEILS
In 2016/2017 season veils will be associated with joyful moments and original stylisations. Delicate, lacy or tulle netting veils will look great as extraordinary hair accessories. Moreover, no matter how you are going to use the veil, it will create an outstanding outcome every time. Attach it to the fringe using colourful hairgrips and set so as resembles a headwear. Actually, you can also attach it with bobby pins and work it into a plate in such a way to make it compose a fundamental element of the hairdo you are going to wear this season.