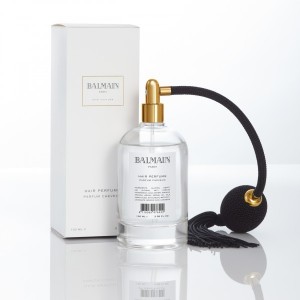 What will we find under the name Balmain Hair Perfume? Contrary to what it may seem like, the name is neither a mistake nor purposely misleading. This brand of luxurious cosmetics for hair simply created first hair perfumes in the history of hairdressing. Who may use them? Are there any fragrance variants? How should you use it?
Essential in haircare? Obviously, hair oil, shampoo, conditioner and maybe some serum with intense action. There are also additional cosmetics for stylisation, which make combing easier or preserve the hair style, like hair spray. If we take into consideration also hair dyes, it may seem that we have everything. Nothing more wrong than that. We forgot about… hair perfumes!
Balmain Hair is a brand full of surprises. The market is full of curious products for care and stylisation of hair, but also of interesting gadgets. One of the last was popular lately Golden Spa Brush with 24K gold from Balmain. No wonder that the brand decided to release hair perfumes. This is something entirely new for the hairdressing world!
Balmain Hair Perfume is in fact delicate hair mist, that provides hair style with fresh and harmonious fragrance. Nonetheless, the mist's formula is much safer. Standard perfumes could turn out to be irritating and cause dryness of hair.
What is different about the Hair Perfumes by Balmain in contrast with similar products? There is no other product like this. Body and face mist sometimes leave also some scent on hair. However, the mist by Balmain has characteristic fragrance of the products from this brand, which accompanies you throughout the day. Each hair movement makes the fragrance stronger and frees another aromatic notes.
Balmain Hair Perfumes can be used two ways:
by spraying hair with it, at small distance;
by spraying the hair brush, so that scent was released when brushing hair.
The great advantage of Hair Perfume by Balmain is its formula enriched with silk proteins and argan oil. Thanks to the two ingredients, perfumes does not cause excess dryness. On the contrary, Hair Perfume also nourishes hair, improves their condition and takes care of proper hydration.
Fragrance tones are anise, tarragon, pinewood, peach blossom, raspberry, gardenia, orange blossom, clove, jasmine, rose, ylang-ylang, apricot, vanilla, sandalwood, cedar wood and white musk.