Greasy at roots, often with dehydrated ends, deprived of volume, heavy and flat. Indeed, oily scalp problem touches many women. Health complications, hormonal disorders, aggressive external factors, unbalanced diet and inadequate care are the factors bearing the blame for greasy hair problem. In most cases application of the right beauty products suffices to say goodbye to this condition. Therefore, it's worth turning not only to a good shampoo but also to a high-quality conditioner. Keep reading to find out which oily hair conditioner is recognized as the expert in its trade.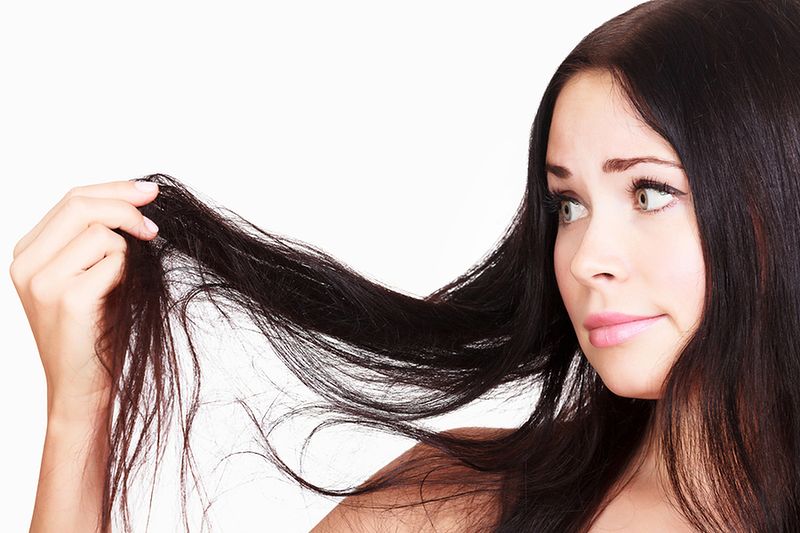 Oily hair conditioner. Do I really need it?
Should a greasy hair conditioner be even used? Many people think that such product makes hair even more greasy as the strands look worse after being treated with it than before washing. Well, this is not entirely true. A hair conditioner negatively affects strands by intensifying sebum production only when ill-matched or used inadequately to the instructions. Application of hair conditioners should be recognized as one of the main indicators of effective hair care – no matter if the hair is dry or oily. It must be realized that the task to intensify hair doesn't belong to a shampoo. It's the mission of a conditioner since it's supposed to improve hair appearance, smooth it, make it more bouncy, shield against adverse action of external factors and ease detangling. Owing to a conditioner, hair is less unruly, becomes more manageable and – what's crucial – gets oily slower. To sum up, a hair conditioner is an irreplaceable product in daily hair care.
What's the best hair conditioner for oily hair?
To let a conditioner serve its purpose and pamper hair without delivering any adverse effects, it must match both hair porosity and hair type. Also, as mentioned above, it must be applied appropriately. The first mistake that we keep making while using a conditioner is putting too much of this product by covering the entire hair length including scalp. It turns out that a conditioner should be applied to mid-lengths and spread downwards. Under no circumstances should conditioner be applied to the skin of head. If you want to nourish your scalp, use a special scalp conditioner/lotion. A regular hair conditioner often contains comedogenic silicones and mineral oils that don't serve scalp right. Instead, they encourage excessive sebum production and may lead to irritation and dandruff.
How to apply an oily hair conditioner?
Only to the lengths of hair, starting from the ear-level downwards. In the case of short hair, only ends should be treated with a conditioner.
Avoid conditioners with silicone and mineral oils (parafianin).
Don't leave a conditioner on hair. Rinse it thoroughly.
Avoid heavy leave-in conditioners.
Use natural oils designed for thick and heavy hair (low porosity) that help lift hair at roots.
What oily hair conditioner is the best?
The best oily hair conditioner has to be mostly lightweight. Often it contains plant extracts such as nettle, aloe, pot marigold, sage, lemon, lavender, chamomile and rosemary.
It can't overburden hair therefore it shouldn't contain silicones, emollients and paraffin. Also, it's worth choosing conditioners that don't contain huge amounts of vegetable oils with dominance of omega-3 -6, -7, -9 fatty acids since they can weigh hair down. Instead, hair that is naturally greasy should be treated with oils that are made of unsaturated fatty acids. Last but not least, the shorter the list of ingredients of a conditioner, the better it is for oily hair.
Also, heavy masks and conditioners with rich composition might leave hair overburdened.
What oils should you use for oily hair of low porous structure?
Oils recommended for low porosity hair: coconut oil, palm oil, babassu, oil, castor oil, linseed oil, sunflower oil
Butters recommended for low porosity hair: shea butter, cocoa butter, mango butter, cupuacu butter
Conditioner for oily hair
The perfect option for oily hair is a special scalp conditioner, also known as scalp lotion. This is an incredibly light and runny cosmetic, which in most cases contains quite a portion of herbs. It has to be applied to clean scalp and left without rinsing. It's task is to fix the malfunctioning oily glands, moisturize scalp, relief irritations and inflammations. Moreover, scalp conditioners don't only affect skin of head but also penetrate deeper to reach hair bulbs and reinforce them. Thanks to this, excessive hair loss problem is combated and hair growth is accelerated. Furthermore, scalp conditioner contributes to keeping hair looking fresh longer. Finally, this hair care product lifts hair at the roots, which makes the strands look light and voluminous.
How to use scalp conditioner?
Scalp conditioner should be put on clean skin of head. In most cases, a packaging comes with a special pipette/spray that eases the application. Once applied, the conditioner has to be spread over scalp by rubbing it delicately into the skin. Naturally, the cosmetic has to be left without rinsing. To obtain the best effects, a scalp conditioner must be used regularly, even every day, no matter if you wash the hair or not.
Which scalp conditioner to choose when the hair is oily?
It must be as natural as possible. Best if its composition is made from natural substances entirely. Basically, you can also go for herbal distillate, commonly known as flower water, that significantly facilitates body, hair and face care. Once you find a scalp conditioner, scan its list of ingredients for the following extracts: sage, burdock, rosemary, tea tree, nettle, birch, neem oil or cistus.