There's been a spray shampoo, a cream shampoo, body & hair soaps. A bar, resembling a pressed sea salt and astonishing with colors, scent and benefits, turns out to work for washing our hair. Shampoo Bar is a new-arrival by Lush. What are the benefits for hair and what reviews it gets? Check why a round, colorful hair-washing bar steals women's hearts.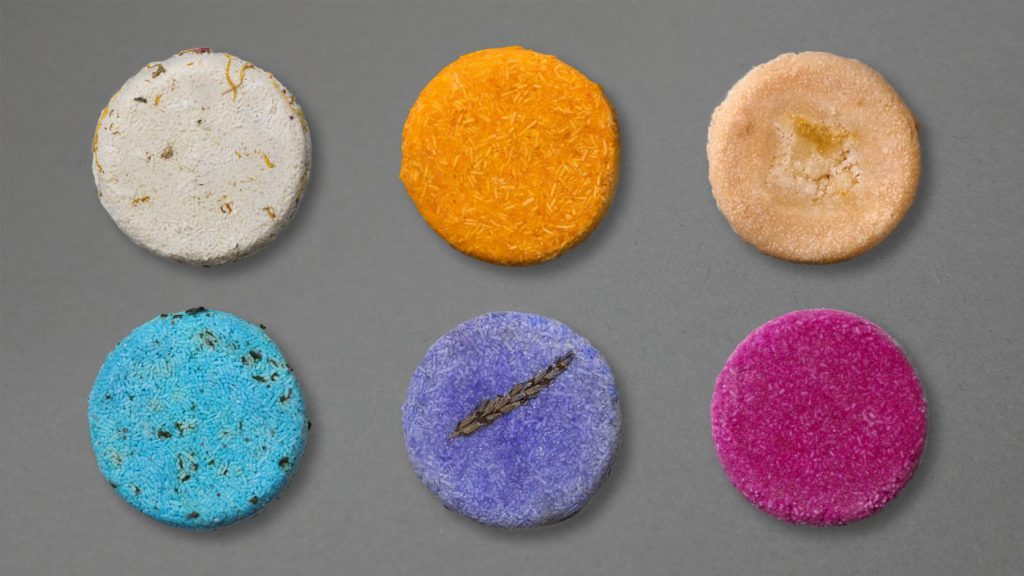 Shampoo bar – what's that?
A hair soap seems a bit… archaic idea. After all, a foam-forming bar is a mother of fluid shampoos that are common today.
However, it doesn't mean that a hair soap has run away and is no longer on store shelves. It remains one of the most popular hair and scalp cleaning products in India, Africa and South America. Obviously, not every soap is fit for this purpose. It must be composed of proper, natural ingredients which care for scalp and hair; its components are often completely different from substances found in traditional body skin soaps.
A shampoo bar – worthwhile?
A hair and scalp soap is making a comeback: it often turns out to have far better ingredients than many traditional shampoos. Regular shampoos are infused with foam blowing agents which are made of synthetic, chemical and comedogenic substances. They neither make our hair look better nor care for the scalp, often causing irritations. Their only task involves creating substantial cleaning foam. On the other hand, shampoo bars are made respecting old recipes and feature natural, safe ingredients – known and appreciated in hair care for ages.
Among the best-known, natural shampoo bars, there is:
Aleppo Soap,
Marseille Soap,
Dudu Osun Black Soap,
Ayurvedic Soaps (enriched with herbs and oils).
Lush Shampoo Bar – what is the phenomenon of this hair soap?
Still, Lush Shampoo Bar is different from all formulas that I've already brought up. Hair soaps didn't use to come in some categories. They aimed at washing sebum and dirt of hair, caring for scalp. They didn't leave the skin dry and provided gentle conditioning. Lush Shampoo Bar offers several natural soaps of sensational colors, mind-blowing scent and flawless foaming.
Lush Shampoo Bars aren't all natural. Some of them contain synthetics (responsible for foaming and effortless application) yet they are not comedogenic. These are mostly safe silicones which smooth the hair structure and gently boost shine.
Summing up, Shampoo Bar is somewhere in between the traditional hair soaps and regular, well-known shampoos. The producer assures that the concentrated soap bars surprise with lasting very long: one bar equals around three normal shampoos. Lush Shampoo Bar is supposed to allow for about 80 hair washes.
Lush Shampoo Bar – ingredients
The formula is made up of many essential oils having an incredible aroma and a relaxing or stimulating effect. They work like aromatherapy. Other ingredients are natural and go along with the needs and types of hair.
Moisturizing Shampoo Bar smells of roses, includes Argan Oil and Rose Oil, and well as Sicilian Lemon Oil. It delivers an exceptional gloss and prevents dryness.
Lush Shampoo Bar for oily hair equals a beautiful violet color and an infusive lavender extract. The soap is rich in rosemary and juniper oil which effectively clean and regulate sebum level.
Lush Shampoo Bar for a volume boost is an azure bar abounding in sea minerals, hair-softening Irish seaweeds, moss and Japanese Nori seaweeds. Thanks to these unique ingredients, hair becomes smooth like silk and voluminous.
Shampoo Bar for thin and tired hair is a beautiful, coral soap of wonderful, quite spicy scent. It stimulates and freshens up hair and tired scalp thanks to oils: cinnamon and clove. This bar also contains nettle extract which has been a famous hair-strengthening substance for ages.
Lush also offers a conditioner-infused shampoo bar. It is a sunny yellow soap which has surprisingly rich composition. It balances and soothes scalp, efficiently nourishing hair at the same time. Among the components you'll spot organic cocoa butter, regenerating and reinforcing hibiscus extract, organic olive oil, Shea butter, jojoba oil, macadamia oil, jasmine extract, gardenia and ylang ylang extracts.
Lush Shampoo Bar – reviews
Still, the design and fragrances are not the key things. The way the soaps affect hair matters as well. Shampooing bars turned out to be a jackpot. Shampoo Bars get raving reviews. Women (and men) value their durability, effects, good ingredients and travel size – a lifesaver when you can't fit anything in your summer suitcase.