Biovax brand is an absolute leader in creating hair care cosmetics and styling products. Many well-known hair dressers and prestigious hair salons offer various treatments with the use of Biovax products.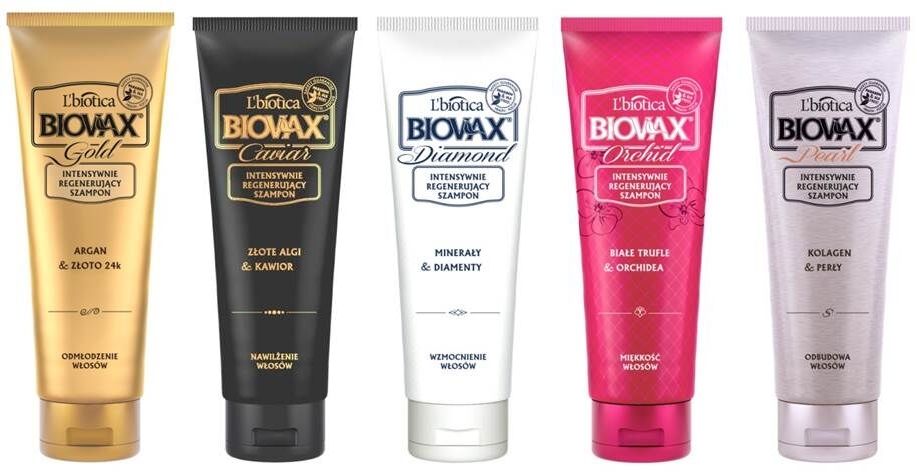 Shampoos from the Glamour line require special attention. They are enriched with valuable and prestigious nurturing ingredients that not only take a great care of hair but also make the entire treatment a pleasure. You can choose from four different types of shampoos, designed for various hair types. You will definitely find something to fulfil the needs of your strands.
1. BIOVAX GLAMOUR ORCHID
It is a shampoo with extracts of white truffles and orchids. It is recommended for dry and damaged hair. Orchid extract has moisturising and softening effects. Additionally, it reduces fee radical therefore, you can be sure your hair will not age. White truffles are a rare and expensive product. Their appearance adds prestige to the product. Truffles belong to substances with the highest content of vitamins from the B group, that perfectly strengthen hair and provide resilience.
2. BIOVAX GLAMOUR DIAMOND
It is a shampoo for everyone whose hair is weak with the tendency to falling out. The product ensures intense regeneration, amazing shine, and strength thanks to the appearance of diamond (which is one of the most precious gemstones). The shampoo is enriched with a complex of minerals that prevent hair loss and stimulate hair growth.
3. BIOVAX GLAMOUR PEARL
A shampoo that comes in a lilac tube is the essence of marine collagen and protein pearls. It has been designed for extremely weak hair. The product is rich in proteins that work similarly to keratin that is present in hair. Its shortage causes disorder in the hair structure and weakening. Marine collagen is responsible for proper hydration and smoothness of wisps. They become resilient and full of shine.
4. BIOVAX GLAMOUR GOLD
This product is the remedy for dry and damaged hair. It contains gold articles enriched with argan oil, which is also called the 'liquid gold of Morocco'. Those valuable substances prevents cel ageing, helps to maintain youth of hair and scalp. Liquid gold is the source of vitamin E responsible for protecting hair from harmful effects of free radicals and UV radiation. Argan oil easily penetrate inside hair shaft and rebuilds any cavities. Additionally, it smooth wisps and restore proper level of hydration.
5. BIOVAX GLAMOUR CAVIAR
This cosmetic is designer for dry, damaged and colour-treated hair. IT contains the extract of caviar and golden algae. Caviar is rich in antioxidants that protect strands and take care of their appearance, intense colour, while golden algae are an irreplaceable source of proteins, vitamins and minerals that moisturise and strengthen hair.
The entire Biovax Glamour series is enlarged by conditioners and hair masks that are worth reaching for. In you want to provide your wisps with complex care and regeneration, Biovax range should be your number one choice.