Regular exfoliation of dead skin cells is extremely important. As a result, the skin is smooth, healthy and has an even color. When it comes to skin scrubs, there are many different solutions, yet the homemade peels are still the most popular. You can make them with salt or sugar – which one is better? Which option do you prefer?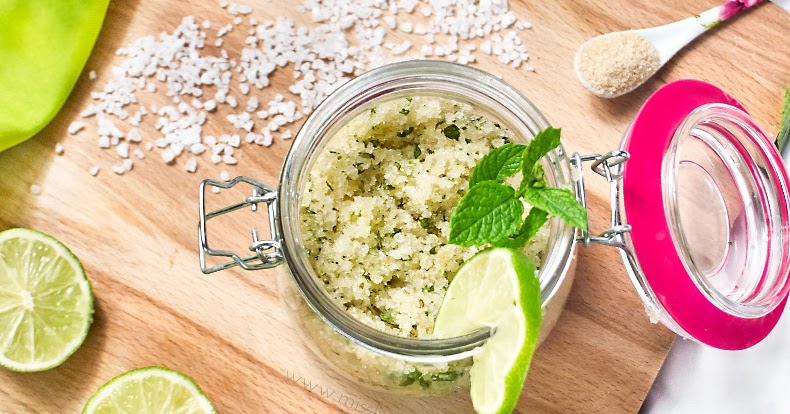 What is a scrub? It is nothing but a procedure of exfoliation of the epidermis which has died and accumulated on the surface of the skin, blocking the sebaceous glands and causing many problems with the skin.
On average, every 28 days there is a natural skin regeneration process – old cells are replaced with new ones. One may wonder why use scrubs if everything is done by itself. Regular exfoliation of the epidermis accelerates the disposal of dead cells and facilitates cellular renewal. Cleansed skin absorbs nutrients from cosmetics more easily, it remains young and full of vitality.
The task of a scrub is to:
cleanse the skin,
smooth out and soften,
ensure a uniform color,
support regeneration,
it visibly rejuvenates.
There's no place like home!
It all might have been easier if there was only one type of a scrub. There would be no questions about which scrub is the best. As a rule, they are divided into mechanical (using exfoliating particles) and chemical ones (using acids or ultrasounds). To undergo each of these treatments you can go to the beautician. However, it does not make much sense if a regular homemade scrub is enough to cleanse your skin thoroughly. It works the same as a typical mechanical scrub, and the exfoliating function is performed, for example, by salt or sugar, less often with oatmeal, ground raspberry seeds or activated carbon.
Salt scrub or sugar scrub?
Both sugar and salt are very often used to make homemade scrubs. Check how they differ and what properties they have.
SUGAR – it most often appears accompanied by oils or butter, such as shea butter. It exfoliates dead skin cells in a very gentle way, so it does not irritate the skin. Sugar scrub is recommended for people with dry, sensitive and even atopic skin. The sugar itself does not have many properties, but it works in our favor. Slightly exfoliates, smoothes, supports skin regeneration and its restoration, as well as supports nourishment and hydration.
SALT – works much stronger than sugar, because it usually has larger crystals. The salt scrub is coarse and it is recommended for normal or oily skin, and also whenever it is necessary, to stimulate skin microcirculation. When using the scrub on our body, salt crystals dissolve, giving the skin valuable nutrients. This is the main advantage of salt peels over sugar because salt is the source of many minerals (potassium, calcium, magnesium). The salt-based scrub is a much better solution when the skin requires not only exfoliation but also a boost of energy.
The advantages of salt scrubs:
They help you keep your skin in good condition.
They stimulate skin microcirculation.
They cleanse the skin and help get rid of toxins.
They provide anti-inflammatory and disinfectant qualities.
They exfoliate even thickened skin, e.g. on the elbows.
They prevent ingrown hairs after depilation.
They smooth, tone and soften the skin.
How to make a salt scrub?
The great advantage of salt scrubs is the ability to make them at home. It is not difficult at all and does not require much preparation or skills. What we need to do a home scrub is a nutritional base (oils, lemon juice, ripe fruit, yogurt, etc.) and an exfoliating ingredient (in this case – salt). The ingredients can be combined freely, but it is important that the salt scrub with oil has the right consistency – it cannot be not too wet, it cannot run down the skin and it has to spread easily on it.
The most recommended salts include:
Dead Sea salt,
pink Himalayan salt,
salt from the Mediterranean Sea,
salt from the Balinese Sea,
English Epsom salt.
Homemade salt scrub – recipes
Salt scrub with lemon
Take half a cup of fine sea salt, add the same amount of good quality olive oil and a tablespoon of grated lemon peel. You can also add a bit of fresh lemon juice. Mix all the ingredients together. Such a salt scrub is best applied to a moist body and massaged with circular movements. After a few minutes, rinse down the remaining scrub with lukewarm water, dry with a towel and apply a body balm that will be absorbed better.
Salt scrub with coconut oil
Prepare two cups of coconut oil and one cup of Epsom salt. Do not dissolve the coconut oil completely, but make sure it is soft, eg placing it next to the radiator for a moment or putting it in a bowl with warm water. Mix soft coconut oil with salt and add a few drops of your favorite essential oil (lavender, mint, rose, bergamot). The method of use is the same as above – apply to damp skin, massage and then rinse.
Salt scrub with mint
The smell of mint has many properties. No wonder so many people like it that much. To prepare a salt scrub which will have a mint scent, we will need a cup of Epsom salt, the same amount of fine Himalayan salt, half a cup of grape seed oil and a few drops of peppermint oil. Mix all the ingredients, put on the wet body, massage for a few minutes and then rinse. If necessary, you can wash the skin, and after towel-drying, apply your favorite body lotion.