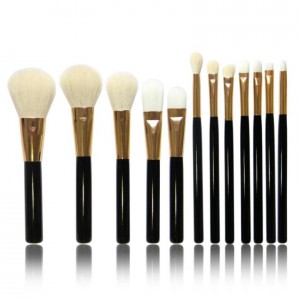 Just as for face make-up you use several types of brushes, for eye make-up you should also have few of them. In the cosmetic bag of each one of us should be at least five applicators of this type. See what brushes you should use and what is their intended use.
Flat brush. This applicator is perfect for application of eye shadow on the entire eyelid. To apply creamy eye shadows, use flat brush with synthetic bristle. Leave puffy applicators with natural bristle for application of base eye shadows. Remember to match brushes' size with the size of eyelid.
Cut crease brush. This applicator is used for cut crease and blending dark eye shadows applied in this area. The brush is small and has dense bristle. It can be used also for application of highlighter in the inner eye corner, under the brow ridge, to blend the line along lashes line and to emphasise lower eyelid.
Blending brush. It can certainly be helpful when it comes to blending eye shadows and creating delicate gradation between them. It is great for smoky eyes make-up. Blending brush has soft and dense bristle allowing precise blending.
Angled eyebrow brush. Comes handy when you apply eye liner and want to emphasise eyebrow ridge. It has short, stiff and angled bristle. Thanks to it, you can provide eyebrows with desired shape by outlining upper and lower edge. In order to apply baked and creamy eye shadows the best is brush with synthetic bristle.
Eyeliner brush.We can differentiate several shapes of this applicator: winged, long and very small, but pointy. Each of them allows you to draw a line on the eyelid and optically make upper and lower lashes line denser, but also complement the make-up. This make-up brush will help you with your feline flick and cat's eye.